May 23, 2018 7:30 am - 12:00 pm
26555 Telegraph Rd., Southfield, MI 48033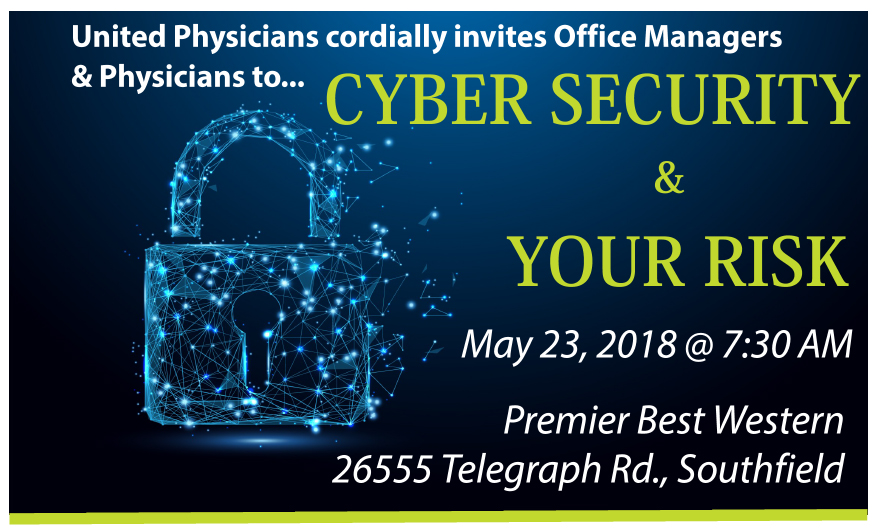 Cyber threats and security breaches pose risks for all businesses, but medical practices are especially vulnerable.
Join us to learn how to:
Anticipate and recognize cyber security threats
Implement policies and procedures to reduce risks
Understand financial and legal consequences of a breach and how a single incident has the potential to shut your practice down
Vendors will be on hand to offer solutions designed for a wide range of security and compliance issues.
---
Keynote Speakers
Alex Kanous, J.D.

Privacy & Compliance Officer, United Physicians

Michael Davenport

Founder, TrilogySecurity

Michigan Cyber Command Center
Alex will help you identify and manage the risks of handling and sharing sensitive data and complying with privacy and ethical use regulations.
As a top cyber security expert, Michael will share his knowledge of risk management, forensics, social engineering and cyber security education.
The MC3 is responsible for the coordination of combined efforts of cyber emergency response during critical cyber incidents in Michigan. Emphasis is placed upon prevention, response, and recovery from cyber incidents.
---
Platinum Sponsors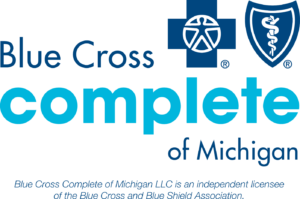 Blue Cross Complete of Michigan is contracted by the State of Michigan to provide medical services in 32 counties to eligible Medicaid and Healthy Michigan Plan beneficiaries. The National Committee for Quality Assurance has recognized Blue Cross Complete with its two-year Multicultural Health Care Distinction for the delivery of culturally appropriate and quality improvement interventions serving diverse populations. A joint venture of Blue Cross Blue Shield of Michigan and AmeriHealth Caritas, Blue Cross Complete is headquartered in Southfield, Michigan. Blue Cross Complete is an independent licensee of the Blue Cross and Blue Shield Association. For more information, visit www.mibluecrosscomplete.com.
---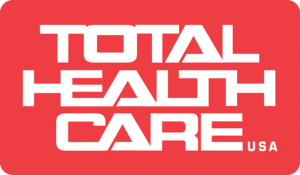 When you think of Total Health Care USA, do you think, "They do Medicaid, right?" Well, that's not even the half of it. We offer the most affordable group and individual plans on the market with the most benefits for the money because we believe that to create vital communities, everyone must have access to comprehensive health plans.
---

athenahealth is the most universally-connected healthcare network in the country. Everything we do is to enhance the experience and outcomes of healthcare. Today, we connect 114,000 providers and 110 million patients through clinical and financial services like electronic health records, population health tools, revenue cycle management, and care coordination. And, because we believe that collaboration and innovation will make healthcare work as it should, we aim to build the nation's leading platform where providers, patients, payers, and innovators can partner to transform care, together. For more information, please visit www.athenahealth.com.
---

Founded in 1998, Blue Care Network (BCN) is a nonprofit health maintenance company owned by Blue Cross Blue Shield of Michigan. The BCN network includes more than 5,000 primary care physicians, nearly 17,000 specialists and most of the state's leading hospitals.  BCN strives to provide affordable healthcare and a better quality of life to its members by providing tips and tools to improve their health and wellness; leveraging care management programs; reviewing prescriptions to ensure the right drug was given to the right patient at the right time; and enrolling members in Healthy Blue Living℠, an innovative wellness-based health care plan.
---

WellTrackONE, the leading Risk Management Company provides wellness programs that enables healthcare organizations to significantly increase their revenue, reduce costs and predict risk of chronic disease. Its wellness programs provide a comprehensive solutions for healthcare organizations to risk-stratify their patient population identifying high risk chronic disease and fall-risk problems before they occur.
---
| Ticket Type | Price | Cart |
| --- | --- | --- |
| Cyber Security & Your Risk Office Manager Forum | $0 | |